Joe Marietta's LRGB of M74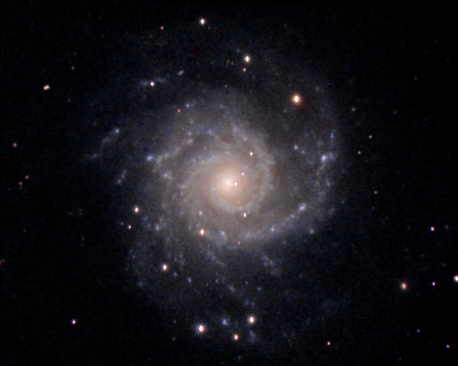 Image Details:
Telescope
Astro-Physics 6" Refractor
Mount
Astro-Physics 900
Camera
NABG ST-7E (all images taken at -29C Chip temperature).
Camera Control Software
MaximDL/CCD
Location
Fredericksburg, VA (Limiting Magnitude: 5-5.5)
Date
December 7, 1999
Sky Conditions
Good.
Exposures
A single 30 minute exposure (unbinned).
A single 30 minute dark.
A single flat field exposure.
10 minutes R,G,B (2x2 binned)
Image Resolution
Luminance image was taken at 765x510 (1x1 binning).
Processing
The raw image was corrected with dark and flat field frames. MaximDL 2.04 and Photoshop 5.5 were used to process the image. DDP (FFT 15% cutoff) was used on the luminance layer to bring out the core. The color component images were stretched in size to match the scale of the luminance image and combined in Maxim.

Final color balancing was done in Photoshop 5.5.